Dry Eye Syndrome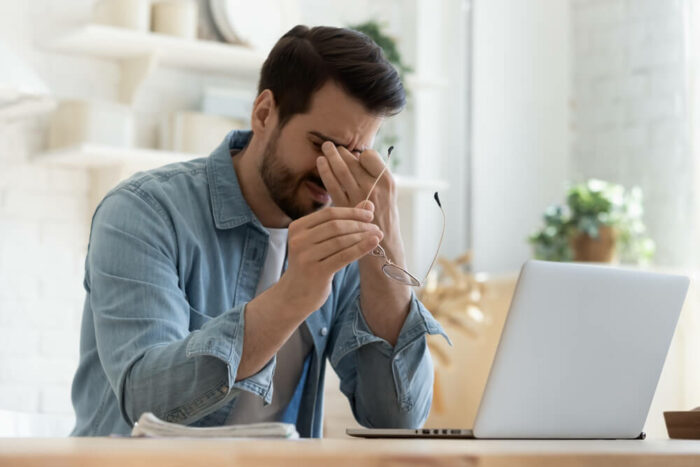 What is dry eye syndrome?
Dry eye syndrome is a condition in which there is an insufficient production of tears, leaving the eye without proper moisture and lubrication. This condition affects millions of individuals worldwide and is the most common reason that patients visit their eye doctor.
If left untreated, dry eye syndrome can cause impaired vision, eye infection, and scarring.
Is treatment available?
Yes! Dry eye syndrome can cause varying degrees of irritation and discomfort but is entirely treatable. When you come in for a consultation at Milauskas, our doctors will assess your eyes for the prevalence of the condition and help outline the treatment plan best-suited to meet your particular need.
Frequently Asked Questions
What Causes Dry Eye Syndrome?
There are a number of factors that can cause dry eye syndrome. These include:
Age
Gender
Certain medication(s)
Long-term contact use
Refractive procedures (occasionally)
Environmental factors
What Are The Symptoms Of Dry Eye?
Stinging and itching
Excess tearing
Burning sensation
Decreased or blurry vision
Inflammation and redness
Sandy/gritty feeling
Sensitivity to light
What Happens If I Don't Get Treatment?
In addition to discomfort that dry eye causes, if left untreated, this condition can lead to lasting problems such as infection, scarring, or permanent vision impairment.
How Is Dry Eye Syndrome Treated?
Dry Eye Syndrome is generally a condition that is not cured (depending on the cause), but it can be managed. The most common approach to controlling mild dry eye syndrome is with the use of artificial tears to lubricate the cornea. There are many over-the-counter solutions and ointments designed to replenish natural tears.
However, artificial tears only offer temporary symptom relief and do not address the underlying problem, which often is inflammation. Now there is an FDA approved prescription eye drop called Restasis designed to decrease inflammation, thereby helping to make tears that are more efficient in lubricating the eye. This not only increases the patient's comfort but also prevents more serious damage from occurring.
Patients who find themselves frustrated with the inadequacy of treatment effects have an additional option that may reduce their dependency on drops and provide relief from many of their symptoms. The Palomar Laser System, which uses natural broad-band light (also known as Intense Pulsed Light, or IPL) is used to unblock tear glands and reduce the influx of inflammatory chemicals around the orbital region. This therapy leads to a more natural tear film that protects and nourishes the surface of the eye, as dry eye symptoms, such as irritation, redness, eye fatigue, and strain, respond quickly to the production of a healthy tear film and ocular surface.
The IPL laser has been used extensively for treating conditions that affect the area around the eye, so a long track record for safety has already been established for its use in medical treatment.