Choosing The Right Eyeglasses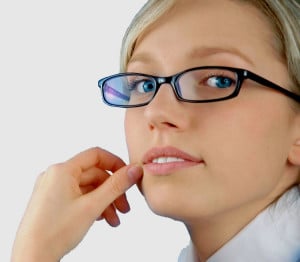 Choosing the right eyeglasses can be difficult especially if it's your first time wearing them.  The thought of making a choice can become overwhelming.  You have to consider things like, how they will complement the shape of your face, or whether they'll be the right ones for the job and other things that depend on your lifestyle.  To help make finding the right glasses a little easier, here a few ways to help you choose the perfect eye glasses.
Fashion
One of the reasons people do not want to wear eyeglasses is because they think it's not fashionable or glasses will not work with the shape of their face, their hair color or even their outfit. This isn't true. Eyeglasses can be fashionable. The main thing is to choose the right frames that will complement the shape of your face, your eye and hair color and your style. To accomplish this you need to first take advantage of the latest technology in eyeglasses.  Ask your eye doctor about high index lenses. These are thinner and lighter so these are a good choice for fashion. They look more natural, like a pair of sunglasses, because they are thinner.
Next, be sure to choose your frames carefully. Contrast is the first thing you may want to look for. The right contrast gives an attractive look. For example, if you have a round face, square frames will flatter your round face. As for the color, dark frames draw attention away from large or unusual features, such as moles or a double chin. The color of the frames can also be used to highlight the color of your eyes and hair.
Functionality
When it comes to functionality, the colors of the lenses are what you should pay attention to. Green lenses make color brighter. Amber colored lenses have better contrasts. You can find green and amber lenses that you can clip onto your prescription lenses. Photo chromatic lenses are for use indoors and outdoors. The lenses change color to a darker shade under sunlight. They also offer UV protection.
Affordability
As for the cost of eyeglasses, there are expensive pairs and there are cheaper pairs. The best way to find affordable but quality eyeglasses is to first see if prescription glasses are covered by your insurance. This can cut the cost of your eyeglasses in half.
If you would like to learn more about prescription eyeglasses, visit Milauskas Eye Institute.  Our Certified Opticians will be glad to help you find the perfect pair of glasses for you.