Intraocular Lenses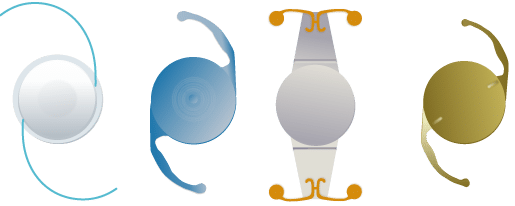 Intraocular lenses (IOLs) that take the place of the eye's natural lens have been a huge benefit to cataract patients, with more than one million implanted in the United States, each year. Since intraocular lenses found widespread acceptance (in the 1970s) the technology has advanced significantly.
Today there is a wide variety of IOLs available to help patients achieve more flexibility in their vision.
Advances in Intraocular Lenses
Since the introduction of intraocular lenses, manufacturers have moved from an inflexible lens material that necessitated larger incisions to acrylic and silicon, which comprise the majority of IOLs placed today. The use of these materials allows the lens to remain soft and pliable so that ophthalmologists can make tiny incisions in which to insert the lens and then unroll it into the eye.
Today, you and your doctor have choices in intraocular lenses. The Ophthalmologists at Milauskas Eye Institute can examine your eyes and help determine which of these intraocular lenses best suits your vision needs:
Multifocal Lenses – offer variable distance viewing with greater possibility that glasses or contacts will not be needed. The lenses provide clear vision at all distances and offer greater freedom from eyewear than previous IOLs.
Toric IOLs – reduces or eliminates corneal astigmatism and greatly improves distance vision without the need for corrective lenses. Toric IOLs will help the blurriness at all distances often caused by an ovoid corneal shape.
Monofocal Lenses – these traditional type of IOL offer vision at only one distance that can be augmented by the use of glasses or contacts.
If you would like more information on Intraocular Lenses (IOLs), call Milauskas Eye Institute today and see what you've been missing.