What is Color Blindness?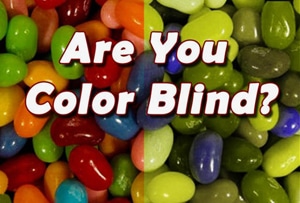 Color blindness means that you have trouble seeing red, green, or blue or a mix of these colors. It's rare that a person sees no color at all.
The human eye sees by light stimulating the retina (a neuro-membrane lining the inside back of the eye). The retina is made up of what are called Rods and Cones. The rods, located in the peripheral retina, give us our night vision, but cannot distinguish color. Cones, located in the center of the retina (called the macula), are not much good at night but do let us perceive color during daylight conditions.
What causes color blindness?
Most color vision problems are inherited (genetic) and are present at birth.
People usually have three types of cone cells in the eye. Each type senses either red, green, or blue light. You see color when your cone cells sense different amounts of these three basic colors. The highest concentration of cone cells are found in the macula, which is the central part of the retina camera.gif.
The cones, each contain a light sensitive pigment which is sensitive over a range of wavelengths (each visible color is a different wavelength from approximately 400 to 700 nm). Genes contain the coding instructions for these pigments, and if the coding instructions are wrong, then the wrong pigments will be produced, and the cones will be sensitive to different wavelengths of light (resulting in a color deficiency). The colors that we see are completely dependent on the sensitivity ranges of those pigments.
A color vision problem isn't always inherited. In some cases, a person can have an acquired color vision problem. This can be caused by:
Aging.
Eye problems, such as glaucoma, macular degeneration, cataracts, or diabetic retinopathy.
Injury to the eye.
Side effects of some medicines.
The symptoms of color vision problems vary:
You may be able to see some colors but not others. For instance, you may not be able to tell the difference between some reds and greens but can see blue and yellow easily.
You may see many colors, so you may not know that you see color differently from others.
You may only be able to see a few shades of color, while most people can see thousands of colors.
In rare cases, some people see only black, white, and gray.
If you feel you may be developing color vision problems when normally you have been able to see a full range of color, then you definitely should visit your eye doctor. Sudden or gradual loss of color vision can indicate any number of underlying health problems, such as cataracts.
Sources: Webmd, Allaboutvision.com