5 Reasons To Get LASIK Today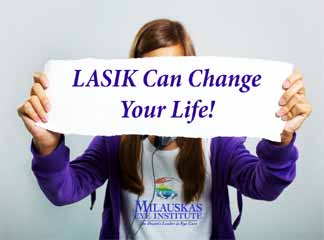 Imagine waking up to see the world with crisp, brilliant clarity and less dependence on glasses or contact lenses. With life-changing LASIK you'll be able to play sports, swim, go to the movies and enjoy social activities like never before!
The Laser Vision Specialists, at Milauskas Eye Institute, want to share five reasons for you to consider vision correction with LASIK.
CONVENIENCE – With clearer vision, you can perform simple tasks, like looking at the alarm clock or checking a medicine bottle, without searching for your glasses or putting in contacts. You can travel with ease and avoid worrying about packing or forgetting your glasses, contacts or cleaning solutions. LASIK makes it easier to live an active lifestyle. You can take a long jog outside without worrying about your glasses falling off or fogging up. You can jump into a pool at a moment's notice. You can play contact sports without worrying about shattering your glasses.
SAVINGS – LASIK makes financial sense. LASIK pays for itself by not having to buy contact lenses or glasses anymore.  If you have a Flexible Spending Account, it

may allow

the use

of the funds for LASIK.
INSTANT RESULTS – No long recovery times here. After you come home from your surgery you will be able to see the world around you in clear detail within hours.
FREEDOM – Imagine never having to think about your vision again…ever. This is what LASIK will do for you. All you have to do is open your eyes to see.
THE BEST VISION POSSIBLE – In most cases, LASIK provides better vision correction than contacts and lenses. The reason this is possible is that, when performing LASIK surgery, the eye doctor is able to make tiny adjustments to your eye that are just not possible with a prescription lens.
Crisp, Clear vision can now be yours without the need for glasses or contacts.
If you are not sure that LASIK is right for you, our Laser Vision Specialists would be happy to discuss the procedure in more detail.
Schedule your FREE No Obligation Consultation at Milauskas Eye Institute today.