May is Ultraviolet Awareness Month

Summer is just around the corner and many of us are getting ready for all the activities that the season brings.
May is Ultraviolet Awareness Month so, while you are planning your summer fun, make sure you know how to protect yourself and your eyes.
The sun's UV rays can burn the eye's cornea and increase the risk of eye problems in the future. UV damage has been linked to the development of macular degeneration, cataract, pterygium (a growth on the white part of the eye) and cancer. According to the World Health Organization, different forms of eye cancer may be associated with life-long exposure to the sun.  Melanoma is the most frequent malignant cancer of the eyeball, and a common location for basal cell carcinoma is on the eyelids.
One way to maintain healthy vision is by protecting your eyes from ultraviolet light.  Here are a few simple tips:
Always wear Sunglasses that block 100% of UV-A and UV-B Rays.
Some contact lenses provide protection against UV rays however; they do not protect the whole eye or the skin around your eye. Sunglasses should still be worn, to provide full protection.
Wrap around sunglasses are great for protecting the eyes and the skin around them
Wear a brimmed hat to shield you face and eyes
Have annual dilated eye exams.
Protecting your eyes from UV light is just one way to prevent eye health problems like cataracts and maintain healthy vision. Call Milauskas Eye Institute for more information and to schedule an eye exam.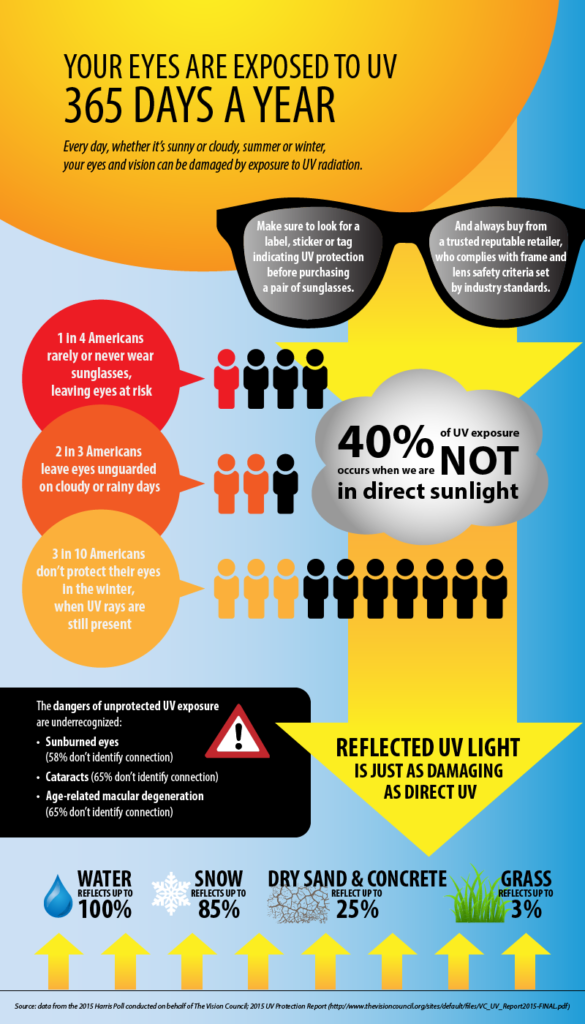 Sources: Friends for Sight, Health News Digest