In Memory Of Dr. Albert T. Milauskas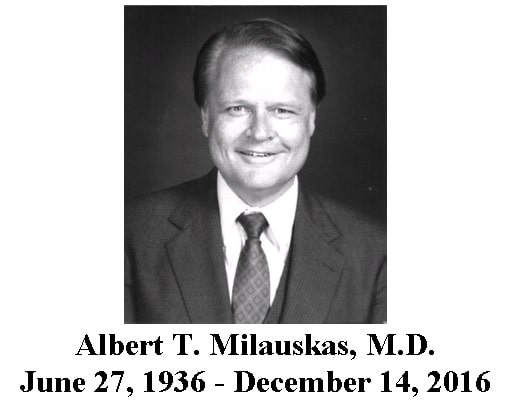 Albert Milauskas, beloved husband and father, passed away December 14, 2016 at age 80. Dr. Milauskas was born in Amsterdam, New York on June 27, 1936 to John and Malvina Milauskas, both immigrants from Lithuania.
Dr. Milauskas subsequently moved to Michigan where he attended the University of Detroit, Wayne State University School of Medicine and where he met his future wife of 54 years Dorothy.
Dr. Milauskas performed his residency as a physician at the prestigious Wilmer Eye Institute at the Johns Hopkins Hospital in Baltimore, MD. He later served for two years in the United State Public Health Service at the rank of Lt. Commander.
In 1970, he and his family moved to Palm Springs where he practiced ophthalmology for the next 46 years. In 1980 he founded the Milauskas Eye Institute which grew to four offices and a surgery center. He was a published medical author and gifted surgeon.
Dr. Milauskas loved to help those who had lost their vision and supported the Guide Dogs of the Desert for many years, as well as later serving as president of its board of directors.
He passed away peacefully with his wife and all four children beside him. He is survived by his wife Dorothy, sons Michael, Kevin and Timothy, daughter Elizabeth (Charleton) and grandson Charles Moore.
A rosary will be said at Wiefels Funeral Home on Monday, Dec. 19, 2106 at 6 p.m. A funeral mass will be said at our Lady of Solitude Catholic Church in Palm Springs on Tuesday, Dec. 20, 2016 at 11 a.m.
In lieu of flowers, donations may be made in Dr. Milauskas' honor to Guide Dogs of the Desert, P.O. Box 1692, Palm Springs, CA 92263 (760) 329-2866 or to the Wilmer Eye Institute Development Office, 600 N. Wolfe St., Wilmer 112 Baltimore, MD 21287 https://secure.jhu.edu/form/wilmer (410) 955-2020.