Smartphones And Eye Strain – Are they Connected?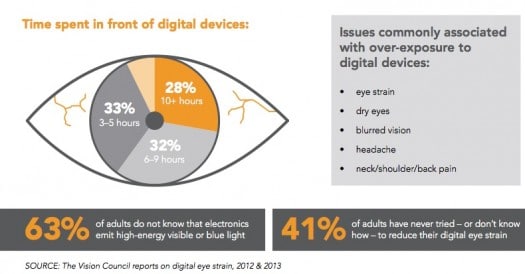 You have probably heard this when you were a kid: "Don't sit too close to the TV or you'll strain your eyes!" Well, now skip up to the age of computers, smartphones and tablets.
Everyone is constantly looking at a screen that's only a few inches away from their eyes.
According to some recent studies, it is estimated that at least half of American adults use a smartphone or tablet to get their news and information. With numbers like that, what sort of impact does all of that screen time have on our eyes?  If you wonder why your eyes feel tired at the end of the day, then you may want to think about how you're using them.  You'll most likely discover that you're spending a lot of your time looking at one device screen or another.
Having the ability to easily access news, email and social media anywhere, at any time means that we are constantly bombarded by screens. This can be great for work, fun and productivity, but it can be very difficult for our eyes to deal with on a daily basis.
You need to make sure you give your eyes a break.  It is more than likely that your smartphone and other mobile devices are causing you eye strain. If you're like most Americans, you're most likely attached to your smartphone or tablet. Studies have shown that people hold their mobile devices too close to their face, forcing their eyes to work extra hard.
Put down the digital devices
Sure you need your smartphone and love your tablet, but you also need healthy eyes. Besides chronic eye strain and fatigue, constantly staring at your smart phone or tablet can serve to decrease your productivity and quality of life by not properly resting your eyes.  Taking breaks from your smartphone is the first step in giving your eyes necessary rest.
So give your eyes a break whenever you can.   At Milauskas Eye Institute, we want to make sure that your eyes and vision are the best they can be.
Source: The Vision Council